DRIVEAWAY Holidays recently celebrated its decade long partnership with TravelManagers by presenting the network with a Partnership Award.
The accolade also recognised the well above average year-on-year growth in sales made by the group over the past decade.
"TravelManagers is privileged to have exceptional, strong and effective relationships with key suppliers such as DriveAway Holidays at both national and state levels," said TravelManagers' executive gm Michael Gazal.
Blake Wiggins, bdm NSW & ACT, DriveAway Holidays, is pictured right presenting Gazal and Sandra Reucker with the 10-year partnership award.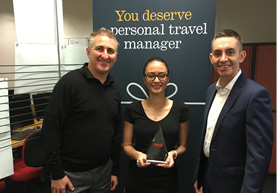 The post 10 years of TM, DriveAway pact appeared first on Travel Daily.
Source: traveldaily