A SURGE in domestic travel spending has given AAT Kings high hopes for its 2018/19 Australia touring program, launched last night at a trade event in Sydney.
"We move over 470,000 passengers a year and that's growing really fast," said managing director Hans Belle.
The newly released Australia brochure features new itineraries in Victoria and New Zealand (TD 18 Sep) and will be followed in about a month by the Inspiring Journeys brochure, which features small group itineraries.
"We see a significant amount of demand, particularly in the international market but also the domestic market, around our Inspiring Journeys small boutique brand," Belle said.
The main 2018/19 brochure includes a sample of several Inspiring Journeys itineraries, along with the core Guided Holidays signature range and Short Breaks of between two and seven days.
Belle said a process of "constant curating" had ensured the range remained relevant with fresh experiences for guests, and that individual tour directors had been empowered to add their own personal elements.
"We call them TNTs – tiny noticeable touches that will really make sure the customer experiences something unique," he said.
"Whether it's their favourite laneway cafe or something else, they should be empowered to deliver that to the customer."
Belle said AAT Kings would continue its support for charitable projects in the year ahead, including Indigenous community programs and funding for Tasmanian devil research.
He also announced a renewal of the company's partnership with the Australia Zoo Wildlife Hospital operated by the Irwin family, which supports native animal rescue and care.
Pictured at the launch are AAT Kings marketing director Joel Victoria, managing director Hans Belle and The Travel Corporation ceo John Veitch.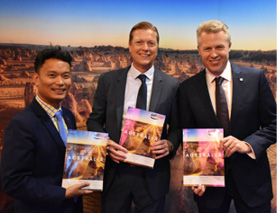 The post A dash of TNT for AAT Kings appeared first on Travel Daily.
Source: traveldaily