TRAVELLERS Choice celebrated its new arrangement with online agency TripADeal this month with a "golden ticket" promotion among its members.
In the spirit of Willy Wonka, Travellers Choice sent each of its members a TripADeal box containing branded merchandise, sweets and background information – plus, two agencies found a golden ticket inside giving them $500 towards a TripADeal booking of their own.
The prizes were won by Lisa Cheso, pictured, from Easy Travel and Cruise Murray Bridge in SA and Mark Brady from Ballina Cruise & Travel, NSW.
Travellers Choice general manager marketing Robyn Mitchell said members had embraced the new arrangement, which went live across the group's network on 09 Oct.
"TripADeal has developed a dedicated wholesale website for Travellers Choice and almost 80% of our members have already set up their profile and viewed tutorial videos," Mitchell said.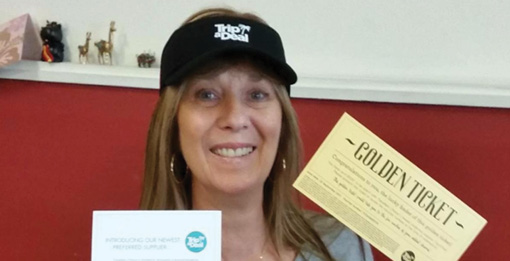 The post A golden ticket opportunity appeared first on Travel Daily.
Source: traveldaily