LAST night over 150 industry partners and suppliers including executives from Giants Netball joined Hawaiian Airlines for an early Thanksgiving celebration.
Held at the Pullman Quay Grand Sydney Harbour, Hawaiian Airlines regional director Australia & NZ Gai Tyrrell addressed guests saying, "Thanksgiving is about saying thank you and giving – and you've all been so supportive to us through 2017 and prior, and I'd like to thank you all".
Julie Pilcher from CiEvents was the recipient of two return tickets to Hawaii, plus an additional two tickets to give to the charity of her choice to auction off in 2018.
Pictured are Julie Primmer, helloworld; Joyce Weir & Gai Tyrrell, Hawaiian Airlines and Jayson Westbury, AFTA.
See more pics on FACEBOOK.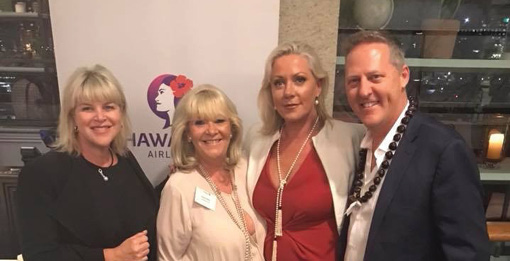 The post A Hawaiian Thanksgiving appeared first on Travel Daily.
Source: traveldaily