CORPORATE Travel Management top-bookers from around the country took part in a famil to London and Paris last month, hosted by The Hotel Connection and Qantas.
The group flew on the Qantas A380 and sampled its Business class product on at least one leg, then stayed in five-star luxury at London's May Fair Hotel.
They also saw the opera Aida and took the Eurostar to Paris where they stayed at the Victoria Palace Hotel on the Left Bank.
After viewing the city from Montparnasse, the group explored more on a Segway tour.
Pictured are the CTM agents and hosts, Sasha Behrakis; Cindy Kam, The Hotel Connection; Ryo Arashima; Nikki Burgess; Anusya Rowley, Qantas; Jess Dunphy; Anna Frost; and Simon Hatter.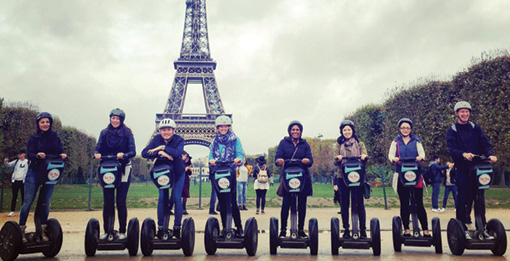 The post A neat Segway in Paris appeared first on Travel Daily.
Source: traveldaily