VISITFLANDERS unveiled a street art mural in Melbourne on Wed last week to commemorate the WWI Centenary of the Battle of Passchendaele in Belgium.
The battle was one of the bloodiest of the First World War with half a million casualties, including 38,000 Australians.
VisitFlanders commissioned the artistic impression as part of a 5-year commemoration program, with the mural calling on every Australian to remember what was sacrificed at Flanders Field.
Australian trade manager Sonia Holt said the artwork is a unique way to remind people of the importance of remembering Passchendaele and to continue visiting Flanders Fields.
Pictured are VisitFlanders' Katrien Timmermans and Sonia Holt with local street artist Adrian Doyle on Hosier Lane in front of the artwork.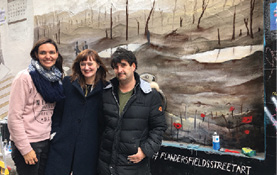 The post A touch of Flanders in Melbourne appeared first on Travel Daily.
Source: traveldaily