AIR Canada executives says they are "very confident" of boosting new Vancouver-Melbourne service to daily when the airline returns to the Victorian capital on a year-round basis next year.
In Sydney yesterday following the seasonal debut of the MEL route last weekend, Air Canada's vice president of global sales Duncan Bureau said increasing Melbourne to daily was key for the airline in this market.
Speaking of the seasonal route which runs through until 04 Feb, Bureau said AC was pleased with forward bookings, as were tourism operators in Canada.
"Ski resorts in the Okanagan are very happy with this route because it connects perfectly with Kamloops and Kelowna.
"Certainly the Whistler tourism is very happy with this additional flight too," he told Travel Daily.
"From our perspective this is traffic that historically may have gone over LA, to Denver or elsewhere to ski in North America, but now has the option of going directly into British Columbia and Alberta properties.
"So you've got Sunshine and Lake Louise and all these ski resorts very happy with this additional flying," Bureau explained.
He said Canada as a tourism destination was benefitting from travellers being more selective about where they chose to holiday in the world and that from a currency perspective, a dollar goes further than in the US.
Inbound traffic from Canada was also strong, with Canadians taking advantage of the direct service to Melbourne to escape the cold.
For Melburnians, flying to New York is also a seamless option with Aussies clearing US customs at Vancouver Airport, avoiding the hassle of American hubs.
AC's MEL-Newark route is also only 2mins longer than Qantas' service over Los Angeles to JFK.
Bureau said the 787 Dreamliner was the ideal aircraft for MEL based "both from a range and economic perspective it allows us to operate it here profitably".
When the YVR-MEL service restarts in Jun next year on a year-round basis Air Canada will need to determine if Melbourne can handle a daily 787-9 frequency or if the asset should be operated to another market in the Asia Pacific region, such as Singapore, Kuala Lumpur or Bangkok, Bureau said.
He said Asia Pacific represented "tremendous opportunities".
Bureau is pictured above (right) with Air Canada's David McNabb, manager marketing, comms and online sales Australia, and Vic Naughton, gm Australia/NZ.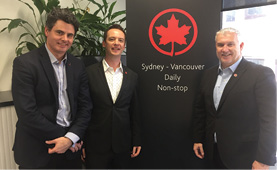 The post AC optimistic for MEL daily appeared first on Travel Daily.
Source: traveldaily