SINGAPORE Airlines is currently treating 24 South Australia-based travel agents on a five-day famil to learn first-hand about the city and experience the Singapore Stopover Holiday (SSH) package.
Highlights have included a ride on the Singapore Flyer, the Night Safari and the Hop On Bus.
The group have experienced the MRT, sampled some Singaporean cuisine and visited food stalls.
They are being escorted by two Singapore Airlines Adelaide reps and are pictured above outside the Singapore Zoo.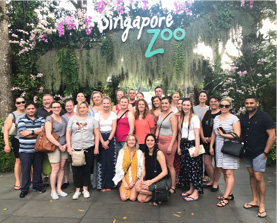 The post ADL agents sample SSH package appeared first on Travel Daily.
Source: traveldaily