GREAT Southern Rail & Infinity Holidays came together this week to host a group of consultants on board The Ghan to Darwin.
Participants from across the country departed from Adelaide before making stops at Marla, Alice Springs and Katherine for Off Train Excursions.
The side trips provided a great opportunity to explore the heart of Australia and travel across the country that the outback pioneers traversed nearly 100 years ago by camel.
Consultants enjoyed the comfort of Gold Service and the food & wine pairings that are designed to reflect the regions The Ghan travels through.
The group is pictured at the remote township and wayside stop for The Ghan at Marla in northern South Australia.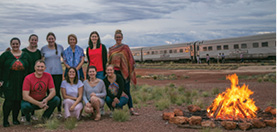 The post Agents fired up for The Ghan appeared first on Travel Daily.
Source: traveldaily