RECENTLY a group of MTA – Mobile Travel Agents members had the opportunity to experience the culture and lifestyle of a traditional Maasai village in Tanzania though a six-day Crooked Compass study tour.
The group immersed themselves in the local culture by learning how to make fires, throwing spears and firing a bow & arrow.
Other trip highlights included a flight over Mount Kilimanjaro, a visit to Lake Eyasi and Karatu and the opportunity to view wildlife with a drive into the famous Ngorongoro Crater.
Pictured meeting the Maasai in Northern Tanzania is: Crooked Compass founder Lisa Pagotto with MTA – Mobile Travel Agents' members Carine Griffiths, Linda Kiernander, Georgia Traill, Debra Johnston and Valma Herb.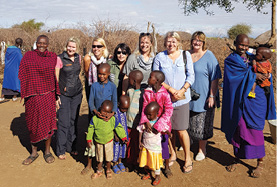 The post Agents learn the art of fire appeared first on Travel Daily.
Source: traveldaily