AIR Vanuatu surprised passengers travelling from Sydney to Port Vila this week with a celebration for its 30th birthday.
Guests on board Flight NF11 on Mon were treated to a special welcome at check-in accompanied by a party of lollies, cupcakes and balloons.
Joining in on the fun was regular guest on the flight and Weekend Today Show host Steve Jacobs, who now calls Vanuatu home.
Air Vanuatu crew are pictured with branded birthday cupcakes provided by Sydney Airport.
The carrier flies six times a week from Sydney and three times from Brisbane, with onward domestic connections daily.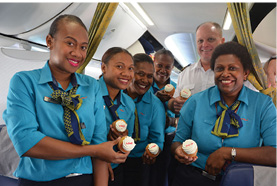 The post Air Vanuatu cracks 30 appeared first on Travel Daily.
Source: traveldaily