THE Australia India Travel & Tourism Council (AITTC) partnered with India Tourism and Taj Hotel to hold an event on Mon to relaunch its "Know India Better" program introducing River Cruising in India.
Over 60 guests attended the event in Sydney, including tour operators, travel agents, airlines, hoteliers and media.
"India is a large and diverse country with unlimited choices for travellers," explained Kanchan K Kukreja, head of India Tourism in Australia.
"This collaboration with AITTC is one of many initiatives of India Tourism Sydney office, with the objective to provide more and more information on Indian destinations to Australia."
The event highlighted river cruising along the Brahmaputra River in North-East India aboard the luxury MV Mahabaahu.
Pictured are: Raman Gulati, Far Horizon Tours India; Vishnu Daram, AIITC; David Reeves, prize winner; Kanchan Kukreja, assistant director India Tourism; Sanjay Basu, director/owner Far Horizon Tours India; Phillip Boniface, co-chairman AITTC and Sandip Hor, Chairman AITTC.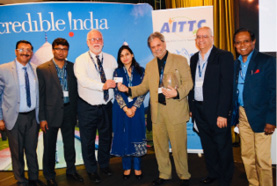 The post AITTC relaunch India program appeared first on Travel Daily.
Source: traveldaily