VISITING Australia for the first time, &Beyond regional managing director Mark Wheeler has this week been updating wholesalers and agents across the country on what's new with the group.
The luxury travel firm this year will focus on the improvement & extension of its lodge network in east and southern Africa, he said.
The new &Beyond Tengile River Lodge in the Sabi Sands Game Reserve in South Africa is slated to open in Dec and features nine raised suites overlooking the Sand River, decorated in contemporary and elegant style.
After fire gutted the iconic four-bedroom &Beyond Phinda Homestead in Dec 2016, the newly rebuilt sole-use villa will welcome guests back from 01 Sep, with reservations open now.
&Beyond Bateleur Camp, situated in Kenya's Maasai Mara, is also receiving a complete overhaul and will re-open in a few weeks' time, featuring 18 tented suites and a new massage sala and fitness centre.
Also included in the revamp is the addition of a coffee & gin bar.
Wheeler further revealed details of &Beyond's Signature Experiences – such as its Snow Leopard Expedition and the Eat, Pray Love experience in India, as well as some of the small group journeys in South America.
A new &Beyond property is also in the pipeline in Bhutan.
More at www.andbeyond.com.
Pictured at this week's event in Sydney from left are &Beyond's Norman Harper, Australia & New Zealand representative; Mark Wheeler, regional managing director of East Africa and South Asia and Anubhav Sawhney, int'l sales manager Asia.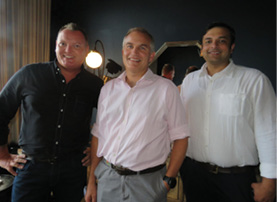 The post andBeyond enhancements appeared first on Travel Daily.
Source: traveldaily