MAGELLAN Travel Group members and suppliers were treated to a sumptuous dining experience at the Sandalford Winery estate in the Swan Valley in Perth last week.
The night was made possible courtesy of APT which for the past six years has hosted dinners for conference attendees.
Before the feasting began, Susan Haberle, commercial manager for APT, praised Magellan members for their support, highlighting a new commercial arrangement with the group.
Haberle demonstrated the degree to which APT collaborates with agents in sharing consumer data to drive sales saying "we have data on your local area that can tell you where your APT and Travelmarvel clients are, what they read, what cinema they go to, how they like their coffee.
"It drills down so much into the granular and we can use that information to work with you on your sales and marketing plans."
APT ran an incentive for Magellan agents at the start of the new financial year with 16 agencies taking home $1,000 each in marketing funds for achieving sales targets.
Pictured from left is APT Group coo Debra Fox, Magellan commercial & operations manager David Stafford, APT commerical manager Susan Haberle and Magellan managing director Andrew Macfarlane.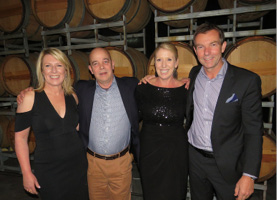 The post APT, Magellan barrelling along… appeared first on Travel Daily.
Source: traveldaily