YESTERDAY Asiana Airlines joined with Seoul Incheon Airport to highlight the myriad connection options through ICN for Australian passengers, at an industry lunch hosted at Sydney's Four Seasons hotel.
Incheon is the world's seventh largest airport, last year handling 62 million passengers of whom 99% were international.
Airlines operating at ICN serve 188 destinations globally, including more than 60 in China and Japan as well as over 20 cities in North America which are accessible one stop from Australia.
OZ sales manager Michael Son told attendees that new Asiana destinations this year includedVenice and Barcelona, making it an ideal option for cruise pax.
For long transits Asiana offers free STPC including a hotel room, transfers, dinner and breakfast – and lunch if required.
But for many destinations, such as San Francisco, travellers arrive same day in their destination with a short connection in ICN.
Son also highlighted OZ's A380, 777 and A350 cabin products including "Smartium" seats, flexible booking classes and Business class chauffeurs in Seoul.
Pictured above at the event are, from left: Asiana Airlines regional manager, Kim Young Sub; Anna Kim, ICN marketing manager; Mina Choi, ICN executive director; & Kim Tai Hwan, Korea Tourism.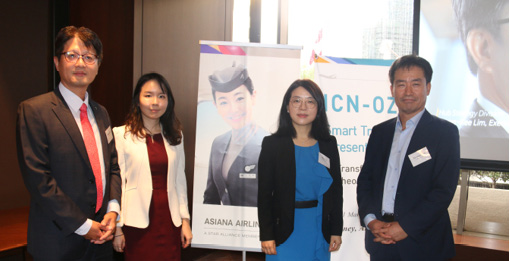 Source: traveldaily