A CONVIVIAL night was had by members and suppliers at the 2017 ATAC conference held at Hobart's historic Cascade Brewery on Fri.
Following a tour with an opportunity to sample the goods, Tasmania's freshest produce was dished up for dinner as guests were entertained with a beer pulling contest, a magician and a band adding to the festive mood.
Sponsored by Royal Caribbean International and Tourism Tasmania, the event was an opportunity for Tourism Tasmania head of channels Nikki Brew to highlight the importance of the trade to the island state.
"The theme for this year's ATAC conference is future focus and Tourism Tasmania has the same approach," Brew said.
"We have strategies in full swing to make sure we hit our target of 1.5 million travellers by 2020 with strong government and industry partnerships," she said.
"We can't over emphasise the importance of our success and how it rests with you, the travel sellers," Brew added.
Pictured are Nikki Brew, Tourism Tasmania; Michelle Emerton general manager ATAC and Ken Morgan, chairman ATAC.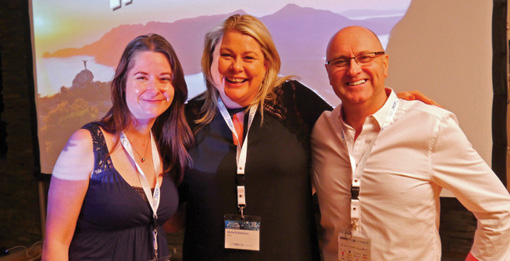 The post ATAC raises a glass appeared first on Travel Daily.
Source: traveldaily