THERE was much cause for celebration on Sat as the 2017 Australian Travel Agents Co-operative (ATAC) conference drew to a close with a gala dinner and awards night in Hobart.
In a year that has seen 19 new members join the expanding co-op and record turnover produced, members scooped up some sensational rewards from suppliers including drones, Google Home devices and bottles of champagne.
The highlight of the evening was the ATAC achiever awards in which 10 agencies won seven-day tours of India courtesy of Total Holiday Options and flights courtesy of Consolidated Travel.
ATAC chairman Ken Morgan thanked major sponsor Travelport for hosting the night before announcing next year's conference would be held in Singapore in partnership with Singapore Tourism.
Pictured is Ken Morgan (centre) with the winning agencies including Ramsgate Travel (NSW), National Warrnambool Travel (Vic), Cruise Express (NSW), Colac Travel (Vic), Travel Plus (Vic), Lilygate Travel (Vic), Meridian Travel (Vic), Esplanade Travel (Vic), Holiday Travel & Cruise (Vic) and Time 4 Travel (Qld).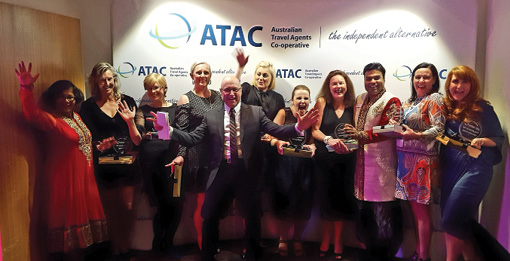 The post ATAC winners are India bound appeared first on Travel Daily.
Source: traveldaily