SHARP-EYED viewers of the Australian Open tennis on TV last Fri night would have noticed repeated shots of Webjet's Dave Galt and Dennis Alysandratos of Consolidated Travel in the crowd.
The pair were highlighted because they were sitting next to Nick Kyrgios' father in the player's box during the 17th seed's third round winning match against his idol, Jo-Wilfried Tsonga.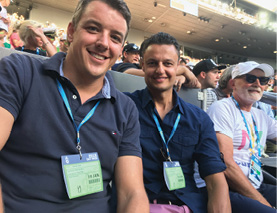 The post Aus Open lures travel trade appeared first on Travel Daily.
Source: traveldaily