THE sixth annual Travel South USA International Showcase recently took place in Charleston, South Carolina, promoting the virtues of America's South as a great tourist destination.
Flying the flag for the Australian delegation were representatives from Gate 7, Scoopon Travel, Venture Far, iTravel/World Travel Co., Relaxaway Holidays and Excite Holidays.
The event included three days of fixtures that melded business and pleasure, including a mix of B2B events, networking, music and shopping.
The scale of the occasion was significant, with 12 state tourism offices, 300 Southern USA suppliers and 100 international buyers in attendance.
"(The showcase) has been a huge success in highlighting everything that makes the Southern states appeal to Australians," Tristan Freedman, director of business development for Gate 7 said.
Pictured are Tristan Freedman, Gate 7; Cassie Orr, Scoopon Travel; Steve Peters, Venture Far; Nicholas Zaferis, itravel/World Travel Co; Lisa Robinson, Relaxaway Holidays and Tim Bowery, Excite Holidays.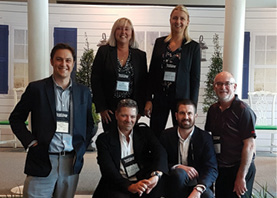 The post Aussie agents head south appeared first on Travel Daily.
Source: traveldaily