FOUR Australian agents were chosen out of over 900 applicants for the Vancouver Specialist Famil earlier this month.
Joining four agents from the UK and four from Germany, the team of 12 embarked on the famil on 11 Sep and stayed at Pinnacle Hotel Waterfront and Sutton Place Hotel.
The trip tied in hotel inspections with sightseeing and activities, including breakfast with the bears on Grouse Mountain, visiting the Capilano Suspension bridge and a sightseeing tour through Westend and English Bay.
Participants took in 360 degree views at Vancouver lookout and experienced Flyover Canada, a flight simulation ride that creates a flying experience with wind, mist and smells flying through different parts of Canada, before taking to the air with a 60 minute flight with Harbour Air Seaplanes.
Vancouver Aquarium put on a show for the agents, including a specialist showcase and the opportunity to watch a seal show and engage with some of the creatures.
Agents worked up an appetite with a bike ride around Stanley Park (pictured), before heading to Granville Island for a Vancouver Foodie Tour.
The famil finished with a farewell dinner at The Westin & a jetboat water tour to Granite Falls with Vancouver Water Adventures.
The above photo was sent to TD by TravelManagers' personal travel manager (PTM) Michelle Kingston, who was on the famil.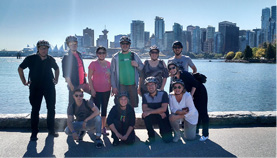 The post Aussies explore Vancouver appeared first on Travel Daily.
Source: traveldaily