JETSTAR has released the results of its "Global Travel Survey", confirming a quarter of Aussies miss their pets most when travelling.
The intriguing finding contrasted with every other country in the carrier's network, where travellers chose family over pets.
Almost 30,000 travellers from destinations across the airline's network shared their holiday behaviours, with results showing over 80% prioritise packing a phone over a book and 39% said that a person using both armrests during a flight is the most annoying behaviour.
See above for the key findings.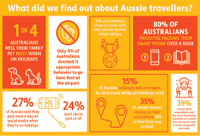 Source: traveldaily