LUXURY around-the-world charter operator Constellation Journeys has named the winners of the travel company's first travel agents' incentive.
Three prizes of two seats each were offered to agents whose clients booked on Constellation's inaugural journey, with entrants called on to explain why they wanted to join the trip.
Departing Sydney on 22 Apr, the 21-day tour aboard a chartered Qantas Boeing 747 will visit Hanoi, India, the Serengeti, Marrakech, New York, Havana and Tahiti.
The lucky agents have each received a prize valued at $39,000 for two.
Winners included Michele Alcorn, National Seniors in Brisbane pictured above with Larry Burrows, Constellation Journeys Queensland sales manager; Lance Mumby, owner/manager Cruisealong with a celebratory bottle of bubbles (inset) & Margaret Ong from Travel Team Brisbane (left – also with Larry Burrows).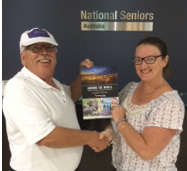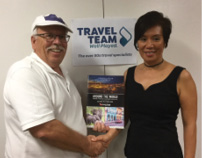 The post Constellation prize winners! appeared first on Travel Daily.
Source: traveldaily