STAGE 1 of the development application for InterContinental Sydney's proposed $200m Crystal Ballroom (pictured) and hotel upgrade, exclusively revealed by Travel Daily (TD 22 Nov 16), has gone on exhibition to the public.
The 916m2 ballroom will have a capacity of 900 seated guests.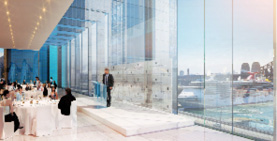 The post Crystal Ballroom application appeared first on Travel Daily.
Source: traveldaily