ETIHAD Airways marked the opening of The Louvre Abu Dhabi with a fly-over by one of its Airbus A380 aircraft.
Etihad Airways also commissioned a short video shot from the flight deck of the aircraft and from within Louvre Abu Dhabi, to celebrate the day.
Two helicopters were also in the sky to capture aerial vision as the A380 flew over the museum, located in Abu Dhabi's Saadiyat Cultural District.
EY ceo Peter Baumgartner said it was an honour for the airline to be involved on the historic day.
"Abu Dhabi can now proudly take its place among the world's foremost cultural destinations, and we, as the UAE's national airline, are poised to play our part in bringing millions of guests to our home to experience this modern wonder of art and humanity first-hand," he said.
Etihad Airways is the Louvre Abu Dhabi's official airline partner, having been the first to sign a deal in Oct (TD 19 Oct).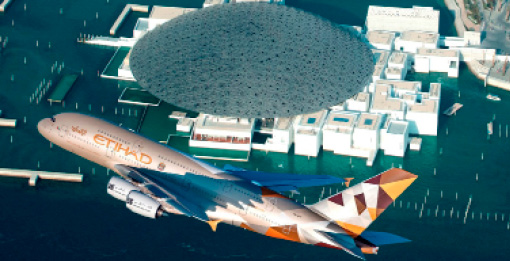 The post Etihad marks Louvre opening appeared first on Travel Daily.
Source: traveldaily