THE chairman and ceo of The Lido Group will take a unique approach to raising funds for the Travel Industry Mentor Experience (TIME).
Lido Group chairman Martin Cowley and ceo Steve Mackenzie will sacrifice 90-days of alcohol to raise funds for TIME.
From 01 Feb, the duo will not sip a drop of alcohol until May.
Cowley and Mackenzie are aiming to raise $3,000, a sum that will fund 100% of the fees for an aspiring industry leader to complete TIME's respected mentoring program.
Cowley said the pair won't stop if they reach their goal sooner than expected.
"We'll go the full 90-days and, with luck, we might manage to fund two spots in the TIME program" he said.
As of this morning, the pair have raised $1,275.
CLICK to donate funds to TIME.
Pictured: Steve Mackenzie and Martin Cowley enjoying one final hoorah before going dry.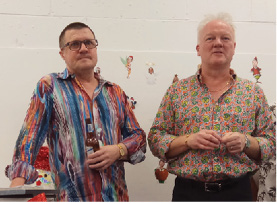 The post Execs go dry for TIME appeared first on Travel Daily.
Source: traveldaily