FIVE Express Travel Group representatives were recently treated to a famil exploring some of Canada's most iconic ski spots.
The five-night snowy adventure courtesy of Sno'n'Ski saw the group initially touring Banff and Lake Louise, including full days of skiing at Sunshine Village as well as a range of fine food to keep things warm, apres events and plenty of mountain views.
The next stop on the itinerary was the Panorama Mountain Resort, where the famil was welcomed with a breathtaking snowmobile tour courtesy of Toby Creek Adventures before warming their feet in the Panorama Springs mountain resort.
Pictured enjoying the slopes in Canada's winter wonderland are: Dean Heke, italktravel & cruise Blue Mountains; Jonathan Nelson, general manager Express Travel Group; Mark van Huisstede, italktravel Maitland; Kathleen Bowles, business development manager (Victoria) Sno'n'Ski Holidays; Carina Marquart, italktravel Hornsby & Liselotte Hennequin-Schmalz, italktravel Fountaingate.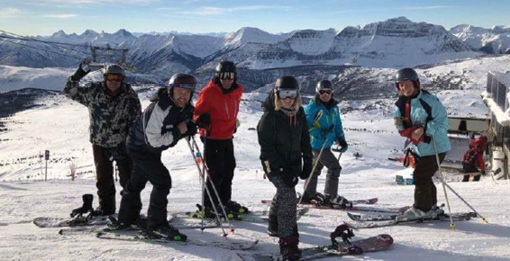 The post Express to Canada's slopes appeared first on Travel Daily.
Source: traveldaily