THE Bunnik Tours Egypt Mega Famil is currently underway with 45 travel consultants enjoying 10 days in Egypt.
The famil is being hosted by all three Bunnik's — Marion, Sacha and Dennis.
Throughout the course of the trip, participants will take in Cairo, the Great Pyramids of Giza and many temples of Aswan, Luxor, Edfu and Kom Ombo.
Winners will also enjoy Sound & Light shows at some of the oldest structures in existence, as well as cruise the Nile in comfort and style between Aswan and Luxor.
All attendees on the famil are wearing t-shirts featuring the Bunnik Tours logo in hieroglyphics to get them in the Egyptian spirit.
Pictured is the group of 45 consultants in front of the Temple of Abu Simbel in Upper Egypt.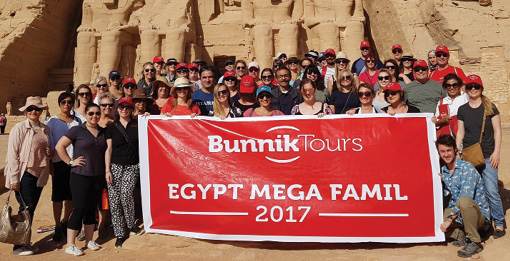 The post Famil team rules the Nile appeared first on Travel Daily.
Source: traveldaily