THE FBI Travel team in Melbourne recently held a lunch for its staff with several members of the Peninsula Hotels Group.
The "Lunch & Learn" session at FBI Travel allowed for its staff to spend more quality time with the hoteliers and vice versa so that their preferred Peninsula's Pen Club partnership could continue to grow and develop.
Pictured: Cooper Hu, Peninsula Beijing; Deb Zimmermann, Eri Sugimoto, Peninsula Tokyo; Jeff Dimand and Alexandre Tuduri, Peninsula Paris; Danny Englman and Scott Berger, Peninsula Beverly Hills; Debbie Grace; Nikki Diamond; Maria Wong; Michelle Adler; Lauren Spanger; Yehudis Jager; Willie Best; Dimitri Giannakopoulos and Simon Yip.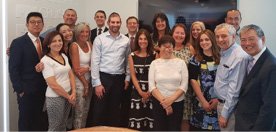 The post FBI lunches and learns appeared first on Travel Daily.
Source: traveldaily