HOSTED by Alexandra Sparr from Sonoma County Tourism, Yosemite/Mariposa County Tourism and San Francisco Travel, along with co-host Ian Dart from United Airlines, a group of Flight Centre Travel Group product & marketing team members recently explored each of the destinations.
Highlights included hiking the redwood forests of Sonoma County followed by wine tasting at Korbel, visiting Yosemite, zip lining in Mariposa & experiencing a behind the scenes tour of San Francisco's AT&T Park.
The focus of the destinations was to showcase new product for the Australian market.
The group included Logan McEwan, Infinity Holidays; Nick Garner, Student Flights and My Adventure Travel; Ben Simpson, FCTG Product Distribution Hub; Evelyne Van Der Venne, Escape Travel and Jade Hussey, Infinity.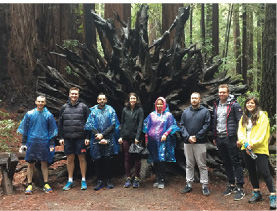 The post FCTG explore Northern Cali appeared first on Travel Daily.
Source: traveldaily