THE new 150-room Felix by 8Hotels located at Sydney Airport was welcomed to the market in style last week (TD Thu), seeing media flown by private jet over the city before enjoying some cocktails back at the hotel.
Group operations manager of 8Hotels, Michael Smith, told TD the event was "a huge success" and was a great forum to launch the hotel & let travellers know its point-of-difference in the market.
"We are not trying to be quirky, different…we are just trying to build a hotel that people would find interesting and has a bit of personality," he said.
"Quirky is QT's domain, we just want to be interesting," he added.
The hotel features a "high-flying" theme throughout, with rooms categorised as either Economy, Business or First class, as well as two meeting spaces called Boeing and Airbus.
"We added all these airline elements and we thought it was weird that airport hotels really shy away from that," Smith said.
Another interesting feature is Felix by 8Hotels' partnership with Fly Airly, allowing bespoke travel for its guests who need to travel quickly on demand.
They are "the Uber of the skies" Smith believes, "this is definitely a growing part of the business…and we went with Fly Airly because we can book a jet with them within 20 mins," he said.
"We were really surprised with how economical it is to fly for example, Mel to Syd, we can book the conference room, the food & the rooms all in one package."
Pictured: The First class suite at Felix Hotel Sydney Airport.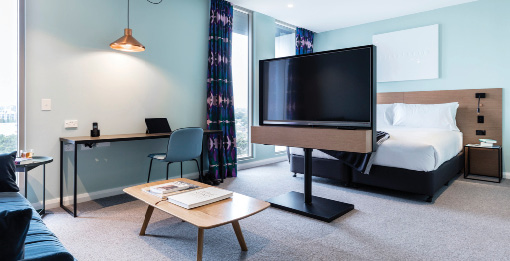 The post Felix by 8Hotels shows persona appeared first on Travel Daily.
Source: traveldaily