TOURISM Fiji and partners brought some Fiji spirit to the annual Phil Hoffmann Travel Expo in Adelaide last weekend.
A variety of travel products in Fiji were on show, including Fiji Airways which was promoting its new Adelaide-Nadi direct flights.
Pictured at the Expo surrounded by Fijian warriors from left are Ben Johnson, Outrigger Resorts; Christine McCann, Jean-Michel Cousteau Resort; Maddy Carse, South Sea Cruises; Richard Hankin, Yasawa Island Resort & Spa; Lisa Costello, Raffe Hotels & Resorts; Phil Hoffmann, Phil Hoffmann Travel; Gordon Rigamoto, The Grand Pacific Hotel; Nina Holmes, Qamea Resort and Spa; Shashita Nand, Nanuku Auberge Resort; David McMahon, Tourism Fiji and Kristina Gerovac, Savasi Island.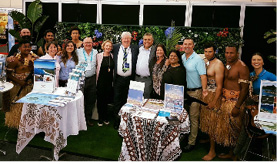 The post Fiji backs Phil Hoffmann Trvl Expo appeared first on Travel Daily.
Source: traveldaily