GREECE and Mediterranean Travel Centre sent this group of travel agents to Croatia recently, visiting key sites such as Dubrovnik, Split and Plitvice Lakes.
The consultants experienced Qatar Airways Business class to Sarajevo, returning from Zagreb.
Pictured from left are: Jenny Mellios, Travel Sense; Milka Sekulovski, Avio Travel; Matthew Sammut, QR; Lewina Evans, APT; Rosie Crnic, Adria Travel; Carla Jammal, Tadros Travel; Sue Ann Simmons, Cousins Connections; Alexandros Karakos, Greece and Mediterranean Travel Centre; Marija Novakovic, BEO Travel; Jaqueline Brown, Helloworld Wollongong; Jeannette Khoury, Helloworld Merrylands; Magdalena Gulabovska, Millenium Travel; Ljubica Bulovic, Modica Travel; Danielle Stucki, Hampton Travel & Cruise; Sarah Young, Helloworld Bonnyrigg; Tina Ruhs, Mega Travel; Malley Angharad & Tracey Lowry, Travel Managers and Ljupco Ilievski from Sun Travel.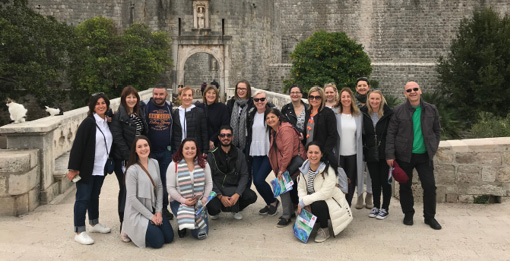 Source: traveldaily