A SELECTION of fortunate Travellers Choice agents were recently selected by Princess Cruises to enjoy a voyage along Australia's east coast.
The agents were first taken for a guided tour through Carnival Australia's new Sydney HQ before being ushered aboard the stylish Golden Princess.
The ship set sail from Sydney to Melbourne, allowing the group to sample a few of the delights cruising has to offer during the brief jaunt on the open seas.
Travellers Choice's general manager of marketing Robyn Mitchell believes the experience will help agents better understand and sell cruise offerings over the next year.
"Princess Cruises provided a wonderful opportunity for some of our most ambitious members to expand their cruise knowledge and further enhance their first-hand experience of ocean cruising," Mitchell said.
"Not surprisingly the results are already flowing through as members pass on their passion and enthusiasm for cruising to their customers."
Pictured: The group of agents explore Carnival Australia's new Sydney headquarters.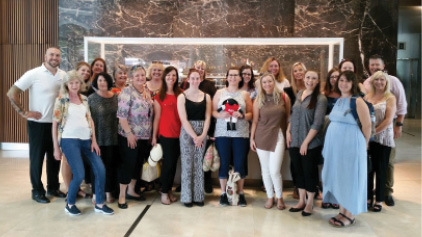 The post Golden age to cruise for Travellers Choice appeared first on Travel Daily.
Source: traveldaily