GTA brought together some of Australia's top hoteliers this month for a high-level briefing on its strategic plans for 2018 and news of the company joining Hotelbeds Group.
The company's vp hotel sourcing APMEA Andrew Hughes told the gathering at Hyatt Regency Sydney that becoming part of Hotelbeds Group and Tourico Holidays would benefit hotel partners by helping simplify a complex distribution environment.
"It is about bringing together three companies with complementary strengths in terms of distribution," he said.
"This news will also enable us to combine resources in order to develop an enhanced range of services, products and technology solutions that will be of value to our hotel partners."
While the integration of GTA and Tourico Holidays into Hotelbeds Group has gotten into full swing, Hughes told hotel partners that the process would take time.
Pictured at Hyatt Regency Sydney are: Nicole Watson, Nicholas Hawksley, Kevin Looney, Chris Baltussen, Andrew Hughes, Philip Hancock, Alex Leslie, and Teagan Greentree.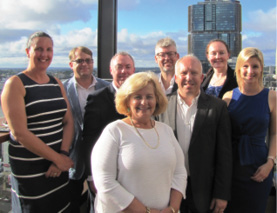 The post GTA talks Hotelbeds appeared first on Travel Daily.
Source: traveldaily