AS INTEREST in Hawaii continues to grow, Hawaiian Airlines (HA) has confirmed its commitment to continue providing Oceania passengers with "the most convenient air services" to the island destination.
Speaking to TD ahead of the 2017 Global Tourism Summit, HA regional director Australia & New Zealand, Gai Tyrrell said, "The past 12 months have been a very significant year for us in terms of product and route innovation".
Yesterday, HA announced an increase to five weekly services between Auckland and Honolulu commencing 21 Mar which will also coincide with the airline's fifth anniversary of flights between the destinations.
On 16 Dec, HA launched its new fully lie-flat Business class product on all services between Sydney, Brisbane and Hawaii, plus expanded its Extra Comfort seating from 40 to 68 per aircraft "to meet demand", said Tyrrell.
"Both of these new product offerings have quickly gained popularity with customers and the travel industry," she added.
In Jan HA expanded its inter-island flight options, allowing Aussie travellers the opportunity to produce creative travel itinerary options by hopping directly between neighbour islands without having to hub through Honolulu.
In addition to product and route developments, Tyrrell said Hawaiian had achieved significant milestones in our region.
The list includes a cabin design for the A321neo fleet, a move into Terminal 5 at LA International Airport, the unveiling of its brand identity and aircraft livery, the 13th anniversary of direct flights between Sydney and Honolulu, and the introduction of 'Bid Up by Hawaiian Airlines' program.
"We also passed the 11 million passenger milestone in the year ending Dec 2016, which was a record for us, and a 3.5 percent increase over the previous year", Tyrrell said.
As for what's in store for 2018, Tyrrell said she was looking forward to working with HA's partners across the industry on plans, which is "again shaping up to be another exciting year for tourism in Hawaii".
Pictured above in Hawaii last night are HA's Karen MacMillan and Keiryn Osborne.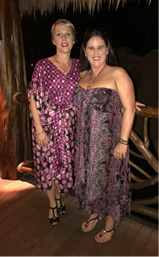 The post HA celebrates growth at GTS appeared first on Travel Daily.
Source: traveldaily