HELLOWORLD Travel has confirmed another re-signing in its associate network, with family run Brisbane agency GlobeNet Travel committing to another three years.
GlobeNet was the 2016 winner of the Helloworld Travel Associate National Retailer of the Year award and was formed in 1994 by the parents of its now general manager Dan Russell.
"We have been associated with Helloworld Travel for the past four years and we continue to find it to be the best for our business," said Russell, adding that GlobeNet had previously been associated with predecessor Travelscene from 2003.
Helloworld Travel head of corporate, associate and affiliate networks David Padman said the group was delighted to have re-signed GlobeNet.
"We value our partnership with them and all of our associates, and look forward to continuing our relationship with the dedicated team at GlobeNet Travel," Padman said.
The company launched a cruise specialist, Clean Cruising, in 2007.
The GlobeNet Travel team is pictured above, including Dan Russell second left at the rear.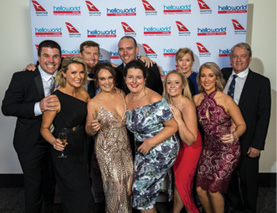 The post Hello to GlobeNet appeared first on Travel Daily.
Source: traveldaily