LUXURY Escapes and Hong Kong Tourism Board (HKTB) held a joint consumer event at the travel company's concept store (TD 28 Jul) in Melbourne last Thu.
The cocktail function lured over 50 Luxury Escapes members who enjoyed Hong Kong-inspired canapes and drinks.
During the evening, Luxury Escapes announced their latest Hong Kong offer, while the tourism board presented the city as an ideal travel destination for all types of travellers.
Details on various attractions and events were also provided.
The audience took home gift bags with collateral, while three prize winners won gift packs from Luxury Escapes and HKTB by participating in a series of fun quizzes and games.
The "A Taste of Hong Kong" event was part of the "Taste of the World" TV series.
Pictured at Luxury Escapes' Little Bourke Street store are Virginia Ou, HKTB with a prize winner at the recent event.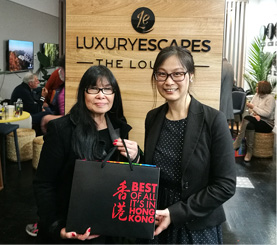 The post HKTB teams with Luxury Escapes appeared first on Travel Daily.
Source: traveldaily