THE highlights of Hobart were on show to a group of Helloworld Travel network agents on a two-night pre-conference famil late last month.
The frontline sellers enjoyed a day tour of historic Port Arthur site and its beautiful surrounds, along with a sea kayaking excursion complete with Hobart's classic fish & chips while on the water in the stunning harbour.
Hotel Grand Chancellor treated the group to champagne and canapes, while they also enjoyed a dinner at Hadleys Hotel, courtesy of Qantas.
Pictured overlooking the Tasman Peninsula are Halena Sharp, Helloworld Travel Coffs Harbour PBP; Wendy Sweetman, Helloworld Travel Albany; Amanda Dowell, Helloworld Travel Scone; Roseanne Scuderi, Helloworld Travel Ayr; Leila Boyer, France @ Leisure; Kristie Sauer, Helloworld Travel Tweed City; Shae Lawler, Summerland Travel Merimbula and Kate Dancaster, Helloworld Travel Limited.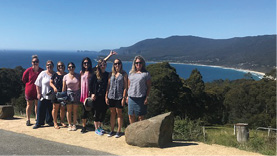 The post Hobart rocks agents' world appeared first on Travel Daily.
Source: traveldaily