JAPAN'S southern island of Kyushu provided plenty of inspiration for this group of Australian travel agents on a recent famil.
Hosted by the Japan National Tourism Organisation, the group was the second of two involving top-scoring agents in the Japan E-Learning program, who were able to explore the "land of fire and water".
The agents stayed in a traditional ryokan (Japanese-style inn) in Kagoshima and experienced the therapeutic benefits of sunaburo, a heated volcanic sand bath.
In Kumamoto, they visited the ancient samurai district of Chiran and one of Japan's best loved historic sites, Kumamoto Castle.
Their tour ended in the island's transport hub and largest city, Fukuoka, where they enjoyed a punt cruise down the Yanagawa River and admired the late autumn colours.
They also shopped at department stores in Tenjin and explored the Christmas Markets.
Pictured dining at an Izakaya (Japanese pub/restaurant) are, from left, Tanya Whitehurst, Cruiseabout; Emma Edge, Helloworld Travel; Justine Frost, Helloworld Travel; Yuri Cherniavsky, Travel Partners; Catherine Grindley, italktravel; Rachael Atkins, TravelManagers; Nicky O'Rafferty, Escape Travel; and Kiah Murphy, Flight Centre.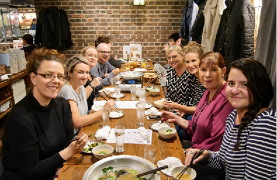 The post In the land of fire and water appeared first on Travel Daily.
Source: traveldaily