INSIGHT Vacations is set to launch its 2018 Europe and Britain collection next week but provided a sneak peek of what to expect at an intimate gathering in Sydney yesterday.
Speaking to media, Insight Vacations md Alex O'Connor said culinary experiences would be a focal point for guests in 2018 with several new innovations revealed.
"What we'll be focusing on is the experiences on the ground with locals and in particular the dining story," she said.
O'Connor referred to three new areas introduced in the 2018 program including the ability to dine at the home of a local who would prepare and serve a meal.
A farm-to-table experience had been introduced where guests could meet with local farmers and growers before sampling their produce, while a new partnership with VizEat had been formed so that travellers could connect with local foodies (TD 07 Jun).
"Food is such an important part of what people are looking for when they travel these days," O'Connor said.
"They're looking for critical food and wine experiences."
A major sales promotion would coincide with the official release of the brochure on Mon, O'Connor said.
Pictured at yesterday's event are The Travel Corporation ceo Australia John Veitch, Insight Vacations head of product Claire Hanney and Insight Vacations md Alex O'Connor.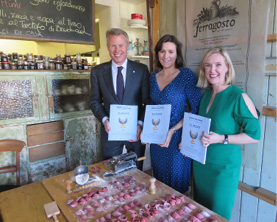 The post Insight culinary experience appeared first on Travel Daily.
Source: traveldaily