TOURISM Research Australia has released the International Visitor Survey (IVS) and National Visitor Survey (NVS) figures for 2019, indicating how much the world has changed this year.
Australia saw record numbers of international visitors, with an increase of 2% seeing 8.7 million arrivals aged 15 years and over.
Spending grew faster, up 3% to a record $45.4 billion, with the Asian market being the top contributor to the growth, providing 88% of the increased spending, and 69% of the higher visitor number total.
High-spending Chinese students bolstered the figures, although visitation from China plateaued at 1.3 million during the year.
There was growth in visitation across all purposes of travel over the year, including a 3% uplift in holiday arrivals to four million.
The most popular activities undertaken by international holiday visitors to Australia were eating out (91%), shopping (81%), sightseeing (80%) and going to the beach (71%).
Visitors from North America and Europe were the most active holidaymakers, with higher participation rates across most adventure experiences.
On the domestic side, a change in methodology switching to 100% mobile phone interviews found a 12% increase in overnight spending and trips.
Transport, accommodation and food & drink contributed the most to total domestic spending, while domestic visitor nights were most often spent at a friend or relative's property (34%), in hotels/motels/resorts (24%) and caravanning/camping (14%).
The total tourism spend, including international and domestic day and overnight travel, reached $152.4 billion.
While welcoming the results, Australian Tourism Export Council MD Peter Shelley warned that "sadly, these are the best we will see for some time.
"Shift forward to Apr 2020 and we see an industry devastated by COVID-19, with mass job shedding, business closures, hibernation, dislocation of the export channel and an industry desperately trying to hold on till we get to the other side".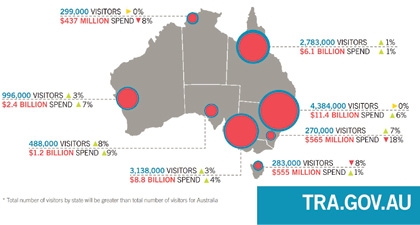 The post IVS, NVS released for 2019 appeared first on Travel Daily.
Source: traveldaily