DIRECT Jetstar flights between Adelaide and Hobart took to the air earlier this week, marking the only direct service between the two cities.
The thrice weekly flights are capable of carrying up to 55,000 travellers each year and reduce travel times between Adelaide and Hobart by three hours from the previous connection options.
Jetstar Group chief commercial officer, Catriona Larritt said with both cities experiencing record tourism numbers, the company expects significant demand for the flights.
"Already over 15,000 customers have already purchased low-fares between these two cities."
Adelaide Airport md, Mark Young said the route has been the facility's largest unserved market for some time.
"We know there is significant demand from customers to fly direct rather than via Sydney or Melbourne," he said.
One-way fares lead in at $95.
Shalend Prakash, manager commercial and aviation relationships, Jetstar is pictured centre with Jonathan Cheong, head of aviation business development at Adelaide Airport and Nick Jones, executive director South Australian Tourism Commission (SATC).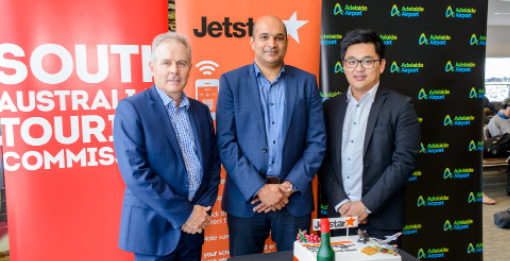 The post Jetstar Adelaide-Hobart appeared first on Travel Daily.
Source: traveldaily