LINDBLAD Expeditions last night revealed Adventure World would be the exclusive partner in Australia for the small-ship expedition line's sister company, Natural Habitat Adventures.
The announcement was made during a trade and media event held in partnership with Lindblad Expeditions' Asia Pacific GSA, Adventure World, at the Australian Museum.
Attendees were treated to a behind-the-scenes evening to mark the official Australian launch of Lindblad Expeditions' 2018/19 Explorations collection and new South Pacific expeditions (TD Mon), hosted by the line's vp sales North America Lesa Bain.
The evening started out at the venue's latest exhibition, showcasing the "200 Treasures of the Australian Museum", before heading into the theatre to hear about Lindblad's new programs.
Guests were then captivated by anthropologist & filmmaker Juan Francisco Salazar, who briefed attendees on what it's like to experience the frozen continent.
The night wrapped up with dessert in the Pacific Gallery and a peek at what to expect from Lindblad's culinary offering.
Pictured are: Elliott Miller, head of sales Adventure World; Lesa Bain, vp sales North America Lindblad Expeditions; Andrea Morgan, industry account mgr NSW & ACT Adventure World; Justin Southern, sales mgr Lindblad Expeditions and Neil Rodgers, md Adventure World.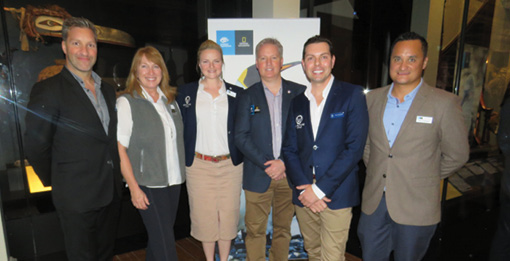 The post Lindblad's night at the museum appeared first on Travel Daily.
Source: traveldaily