HEARTS were dashed and dreams came true during the highly anticipated The Bachelorette Australia finale last night, which was filmed in Fiji.
The finale whisked away contestants Stu "half-a-billion-dollar" Laundy and Jarrod "stage-five-clinger" Woodgate to the archipelago to vie for the heart of Sophie Monk.
The final chapter in Monk's quest to find "true love" was filmed at Fiji's Marriott Resort Momi Bay and the love triangle spent time at Malamala Beach Club Fiji and the Garden of the Sleeping Giant.
The episode also featured Fiji's heart-shaped Tavarua Island.
Ahead of the airing of the episode on Network Ten, Tourism Fiji's state managers pounded the pavement to ask agents "will you accept this cake pop rose?".
Pictured above is Tourism Fiji Vic state manager Kara Nelson handing out roses to Island Escapes marketing manager Farid Hacene and reservations staff.
Below is Tourism Fiji NSW state manager David McMahon delivering the goods to Qantas Holidays staff and inset is Hoot Holidays staff accepting McMahon's gesture.
Inset below is TD's p*ss-free potplant, placed out in support of Jarrod's broken heart.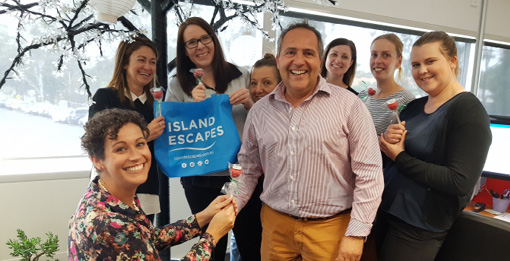 The post Love blooms from Fiji appeared first on Travel Daily.
Source: traveldaily