MALAYSIA Tourism and Singapore Airlines yesterday conducted a joint seminar at Sydney's Parkroyal Hotel, inviting travel agents to help their clients "Discover Malaysia with Singapore Airlines".
The event showcased destinations across Malaysia – and their convenient connectivity via Singapore Airlines services – including Kuala Lumpur, Penang and Langkawi, as well as Sabah & Sarawak in Malaysian Borneo.
Several of the lucky travel agents in attendance went home with prizes including discounted SQ tickets along with the "double delight" of accommodation in Singapore and Malaysia.
The grand prize winner, Tina Huynh from itravel Surry Hills, received a bonus two night at the Parkroyal Penang, thrown in at the last moment by Jeremy Baker of Pan Pacific Hotels Group.
Pictured from left are Mohammed Nasiry, Express Travel Group Airline & Operation Support Manager; Ahmad Esa, director, Malaysia Tourism Promotion Board; Jeremy Baker, Pan Pacific Hotels Group; Isabelle Imperiali, Singapore Airlines; Lela Jollow, Malaysia Tourism marketing manager; and Nurazah Jalaludin, Malaysia Tourism deputy director.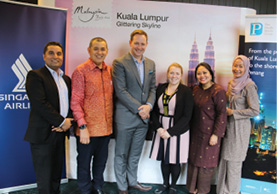 The post Malaysia, SIA partner promo appeared first on Travel Daily.
Source: traveldaily