SIX personal travel managers (PTMs) recently enjoyed a TravelManagers' famil of the Bourgogne region in France where they experienced a six day Back-Roads Touring Barge Cruise.
Travelling on the MS Jeanine on Le Canal De Bourgogne from Dijon to Besancon, the NSW-based agents experienced what makes river barges an interesting way to explore Europe.
PTM Michelle Michael-Pecora said she discovered a new appreciation for barge cruising after taking the famil.
"Barge cruising provides the opportunity to see a destination from a different perspective and if your time is limited, is a great way to see so much," she said.
Pictured at the Citadel of Besancon a 17th Century fortress and UNESCO world heritage site are: Peter Carmichael, Karen Nelson, Marie Miller, Kristina Acevski, Jason Smith, Michelle Michael-Pecora and Janice Lee.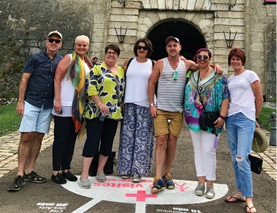 The post Managers on the Back-Roads appeared first on Travel Daily.
Source: traveldaily