MERIDIANA has rebranded as Air Italy and plotted a new business plan focussing on passenger experience and "the next generation of traveller".
The decision is on the back of Qatar Airways' acquisition of 49% of the airline's parent company, AQA Holding (TD 29 Sep).
Air Italy aims to have 50 aircraft by 2022 and will take delivery of 20 new Boeing 737 MAX aircraft over the next three years.
It will also receive five Airbus A330-200 aircraft this year from the Qatar Airways' fleet, which will be replaced by Boeing 787-8 Dreamliner aircraft, commencing May 2019.
New long-range routes include Milan to New York and Miami, to be followed by short-haul routes connecting Milan and the airline's long range destinations to Rome, Naples, Palermo, Catania and Lamezia Terme.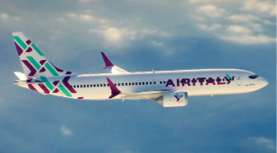 The post Meridiana into Air Italy appeared first on Travel Daily.
Source: traveldaily