THE Mobile Travel Agents (MTA) network has achieved a sixth consecutive year of record profits and boosted its ranks of home-based members under the model forged by its founders Karen and Roy Merricks.
At the group's annual conference on the Gold Coast on the weekend, the couple proclaimed their collaboration with Helloworld had been an "absolute success" over its first 15 months and said they would continue to be integral to the business in the future.
"The important thing is that we're not going any time soon," Roy Merricks told TD.
"We keep hearing that Karen and Roy are going to disappear out of MTA, but it's still our baby – our 18-year-old baby.
"We're not going anywhere."
MTA ceo Don Beattie said the past year had been the group's best on record.
"We have, in the last six years, had record year-on-year growth (in profit, each year)," Beattie said
"And that's double digit."
He said in the past year MTA had increased its members from 360 to more than 380, though the group was maintaining its focus on fostering high quality agents over lifting numbers.
The weekend's conference was attended by more than 400 people, including a record 240 MTA members as well as suppliers and industry partners.
Beattie is pictured, left, with Karen and Roy Merricks.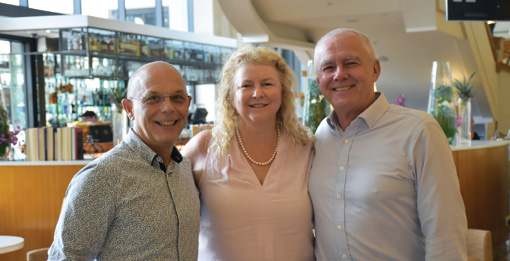 The post MTA drives record growth appeared first on Travel Daily.
Source: traveldaily