MAGELLAN Travel Group's manager for corporate & business development Scott Darlow has been busy the past month travelling the country conducting member roadshows in 18 cities and towns to bring MTG agents up to speed on the organisation's new services and tools.
Unveiled at Magellan's annual conference in Sep were a suite of initiatives for the digital marketing and email space, a cutting edge digital itinerary platform, a brand-new Magellan Member Portal and an exclusive partnership with Signature Travel Network (TD 14 Sep).
It was Darlow's task to ensure MTG member owners and their staff embraced the initiatives to maximise their positive impact.
He said the response from members had been "fantastic".
"We have been able to directly reach nearly all of our member base and further showcase our comprehensive suite of member services," Darlow commented.
MTG's Sydney and Melbourne events were headlined by a visit from Signature Travel Network's Atlanta-based vice pres member acquisition and engagement, Kimberly Waters, who flew in to meet with members & showcase the partnership with Magellan.
Pictured at the Melbourne event at Park Hyatt from left are Kay Franklin, the Travel Agency; Trevor Jones, Hawthorn Travel & Cruise; Stuart Coffield, Geelong Travel; Kimberly Waters, Signature Travel Network; Carl Buerckner, Platinum Travel Corp & Andrew Macfarlane, MTG.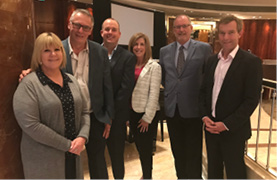 The post MTG initiatives endorsed appeared first on Travel Daily.
Source: traveldaily