MVENPICK Hotels & Resorts last night booked out the swanky Ivy Penthouse in Sydney for an evening of VIP networking, highlighting the company's range of new and exciting developments across Asia.
Holger Jakobs, vice president of sales for Asia, spoke about recent announcements including the pending debut of the 148-room Mvenpick Resort Lang Co in Vietnam and the 105-villa Mvenpick Resort & Spa Kuredhvaru Maldives.
The Swiss hotel group is undergoing rapid expansion, and expects to launch at least eight new Asia Pacific hotels this year, boosting its regional portfolio by more than 50% to 19 properties.
Jakobs is pictured above left with Jeannie Foster, country director for Mvenpick's local representative Discover the World, and Belinda Harvy, Mvenpick international sales manager Australia/NZ.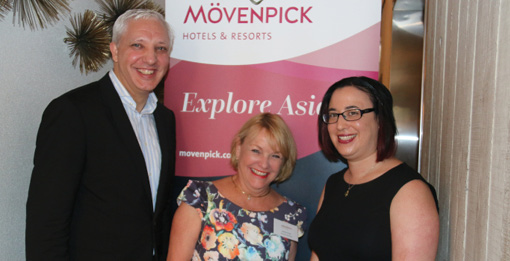 The post Mvenpick networking appeared first on Travel Daily.
Source: traveldaily